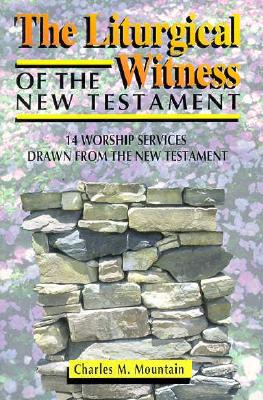 Stock Image
Author: Charles M. Mountain
Title: The Liturgical Witness Of The New Testament
Binding: Paper Back
Book Condition: New
Publisher: CSS Publishing Company January 1996
ISBN Number: 0788007149 / 9780788007149
Seller ID: 104988
Liturgy, which literally means "the work of the people," sums up all the ways people have responded to God, including hymns, prayers, laments, invocations, and confessions of faith.
"The Liturgical Witness Of The New Testament" contemporizes and brings to life these various forms of worship as the author draws unique canticles, prayers, hymns, and responsive petitions from the books of the New Testament. Each New Testament book is allowed to speak with its own voice. For example, the service based on Luke gives voice to the gospel by the use of four canticles (psalms), and Luke's own version of the Words of Institution and his truncated version of the Lord's Prayer are included.
Also included are a helpful index listing the worship services according to their use in the lectionary and ten sermons for use with these liturgies.
Contents include:
- Through The Desert Clear A Highway -- The Liturgical Witness Of Luke
- One Lord, One Body -- The Liturgical Witness Of The Corinthian Letters
- Lordship And Unity -- The Liturgical Witness Of Colossians
- God Is Love -- The Liturgical Witness Of First John
- Worthy The Lamb -- The Liturgical Witness Of Revelation
Charles M. Mountain received a Master of Arts in Music degree from California State University, a Master of Divinity degree from Luther-Northwestern Theological Seminary, and has engaged in graduate work in Hispanic Ministries in Denver, Colorado. He has written, produced, and hosted various radio shows in Colorado and South Dakota, providing commentary for classical music. His articles have been widely published and he has authored three previous books, including "We Have Beheld His Glory "(CSS Publishing) and "New Testament Scriptures For Singing" (Fairway Press). A freelance violinist in the greater Denver area, he is married to Dr. Jane Mountain, a family practice physician.
Price = 11.95 USD