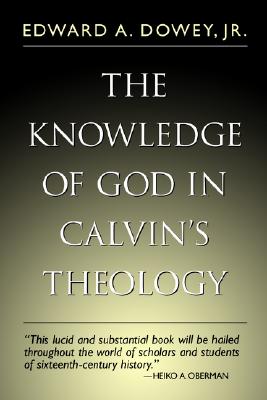 Stock Image
Author: Mr. Edward A. Dowey Jr.
Title: Knowledge of God in Calvin's Theology, 3rd Ed.
Binding: Paper Back
Book Condition: Used - Very Good
Edition: 3
Publisher: Wm. B. Eerdmans Publishing Co. November 1994
ISBN Number: 0802801072 / 9780802801074
Seller ID: 107519
Externally like new, but lots of pencil underlining and marginalia in the text.
An Eighth Day View:
"Eerdmans' third edition of Dowey's The Knowledge of God in Calvin's Theology is both a welcomed and noteworthy publishing event, welcomed because its publication makes available for a new generation Dowey's substantive analysis of Calvin's thought and noteworthy because its author's breadth of scholarship, then and now, endows the work, with its expanded appendices, with a lively, penetrat-ing, and judicious perspective from which to assess Calvin's theological genius. With incisive clarity, Dowey both explains and criticizes Calvin's principle of the duplex cognitio domini, illuminating how the Reformer's concept of the knowledge of God the Creator and the knowledge of God the Redeemer controls and contributes to the whole of Calvin's thought. Although first published over forty years ago, Dowey's comprehensive study still remains the best on the subject." - Theology Today
Price = 9.50 USD