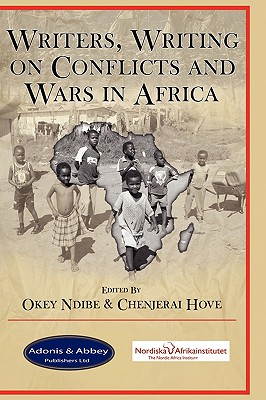 Stock Image
Author: Okey Ndibe, ed.
Title: Writers, Writing on Conflicts and Wars in Africa
Binding: Paper Back
Book Condition: New
Publisher: Adonis & Abbey Publishers Ltd July 2009
ISBN Number: 1906704538 / 9781906704537
Seller ID: 109995
Many African countries are caught up in perennial or recurrent political conflicts that often culminate in devastating wars. These flaring conflicts and wars create harrowing economic hardships, dire refugee problems, and sustain a sense of despair in such countries. By their nature, these conflicts and wars affect writers in profound and sometimes paradoxical ways. On the one hand, literature-whether fiction, poetry, drama, or even memoirs-is animated by conflict. On the other hand, the sense of dislocation as well as the humanitarian crises unleashed by wars and other kinds of conflicts also constitute grave impediments to artistic exploration and literary expression. Writers and artists are frequently in the frontline of resistance to the kinds of injustices and abuses that precipitate wars and conflicts. Consequently, they are often detained, exiled, and even killed either by agents of state terror or by one faction or another in the tussle for state control. Writers, Writing Conflicts and Wars in Africa is a collection of testimonies by various writers and scholars who have experienced, or explored, the continent's conflicts and woes, including how the disruptions shape artistic and literary production. The book is divided into two broad categories: in one, several writers speak directly, and with rich anecdotal details about the impact wars and conflicts have had in the formation of their experience and work; in the second, a number of scholars articulate how particular writers have assimilated the horrors of wars and conflicts in their literary creations. The result is an invaluable harvest of reflections and perspectives that open the window into an essential, but until now sadly unexplored, facet of the cultural and political experience of African writers. The broad scope of this collection-covering Darfur, the Congolese crisis, Biafra, Zimbabwe, South Africa, among others-is complemented by a certain buoyancy of spirit that runs through most of the essays and anecdotes. _______________________ * Okey Ndibe teaches fiction and literature at Trinity College in Hartford, Connecticut. He has also taught at Connecticut College in New London, Connecticut as well as Simon's Rock College in Great Barrington, Massachusetts. He was for one year on the editorial board of the Hartford Courant and, from 2001-2002, was a Fulbright professor at the University of Lagos, Nigeria. * Chenjerai Hove is an award-winning Zimbabwean novelist, poet, essayist and journalist whose work has been translated into numerous languages. Educated in Zimbabwe and South Africa, Hove's publications include the novels Bones (winner of the prestigious Noma Award, Baobab Books, Harare, and Heinemann, England, 1988), Shadows (Baobab and Heinemann, 1988), and Ancestors (Macmillan/Picador, England, 1996); such poetry collections as Up In Arms (Zimbabwe Publishing House, 1982), Blind Moon (Weaver Press, Harare, 2003), and Red Hills of Home (Mambo Press, Gweru, 1984). He is also the author of the collection of essays Shebeen Tales (Baobab Books, Harare, and Serif, London, 1994). Hove, who has published several volumes in his indigenous language of Shona, has worked as a columnist, translator, editor and lecturer in Zimbabwe and numerous other countries. Currently on exile in Norway, he has lived and taught in Kenya, the Netherlands, Germany, England, Switzerland, France, and the United States. He recently completed the translation of Shakespeare's King Lear into Shona.
Price = 29.00 USD