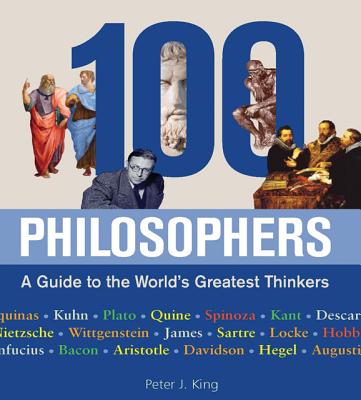 Stock Image
Author: Peter J. King
Title: 100 Philosophers: A Guide to the World's Greatest Thinkers
Binding: Hardcover
Book Condition: New
Publisher: Chartwell Books April 2013
ISBN Number: 0785830227 / 9780785830221
Seller ID: 110874
Here, presented for non-specialist readers, is an easy-to-understand survey of ideas put forth by 100 important philosophers, from the pre-Socratics of ancient Greece to the analytic philosophers of the present day.
Each thinker is summarized in a single illustrated page, or in many instances, in a two-page spread. Each entry includes the philosopher's birth and death dates, titles of major works, major influences, a capsule biographical sketch, and a brief summary of his or her most important ideas.
In addition to philosophers in our own Western tradition, readers will find Chinese sages, including Confucius and Lao-tzu, the Indian Buddhist philosopher Ngrjuna, and thinkers representing other cultures.
The text is enhanced with more than 150 illustrations and a glossary of philosophical terms.

Price = 21.99 USD