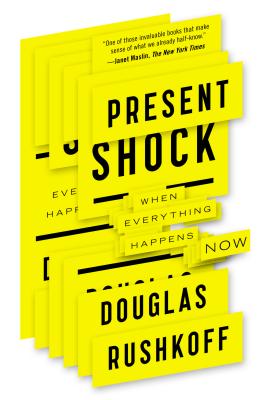 Stock Image
Author: Douglas Rushkoff
Title: Present Shock: When Everything Happens Now
Binding: Paper Back
Book Condition: New
Publisher: Current Trade February 2014
ISBN Number: 1617230103 / 9781617230103
Seller ID: 111692
People spent the twentieth century obsessed with the future. We created technologies that would help connect us faster, gather news, map the planet, and compile knowledge. We strove for an instantaneous network where time and space could be compressed.
Well, the future's arrived. We live in a continuous now enabled by Twitter, email, and a so-called real-time technological shift. Yet this "now" is an elusive goal that we can never quite reach. And the dissonance between our digital selves and our analog bodies has thrown us into a new state of anxiety: present shock.
Douglas Rushko weaves together seemingly disparate events and trends into a rich, nuanced portrait of how life in the eternal present has affected our biology, behavior, politics, and culture.
"Invaluable." -- "The New York Times"
"This is a wondrously thought-provoking book." -- Walter Isaacson
"A sobering wake-up call to collectively reexamine our relationship with time before we're blindsided by an unwelcome future." --"Booklist"

Price = 16.00 USD