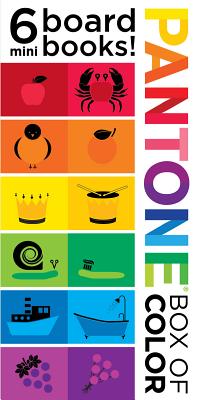 Stock Image
Author: Pantone
Title: Pantone: Box of Color: 6 Mini Board Books!
Binding: Paper Back
Book Condition: New
Publisher: Abrams Appleseed November 2012
ISBN Number: 1419704192 / 9781419704192
Seller ID: 115567
This beautiful box is brimming with gorgeous PANTONE colors and surprises. With a volume for each color of the rainbow--red, orange, yellow, green, blue, and purple--these six chunky board books feature simple peek-through cutouts that transform as you turn the pages. Simple text prompts parents and children to label objects and observe lighter and darker shades of the same color family, promoting a new way of noticing the colorful--and surprising--world around us.
Praise for "Pantone: Box of Color"
"Pleasingly tactile variations of six colors..."
--"The Wall Street Journal "
"The books, which are smart and well-designed, showcase subtle shades of six colors (red, orange, yellow, green, blue, and purple), while die-cuts do double duty as they introduce basic objects."
-- "Publishers Weekly"

Price = 12.95 USD