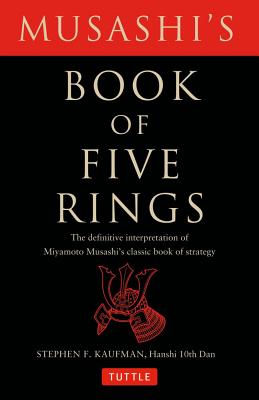 Stock Image
Author: STEPHEN F. KAUFMAN, MUSASHI MIYAMOTO
Title: Musashis Book of Five Rings : The Definitive Interpretation of Miyamoto Musashis Classic Book of Strategy
Binding: Paper Back
Book Condition: New
Publisher: Tuttle Pub January 2004
ISBN Number: 0804835209 / 9780804835206
Seller ID: 115914
Miyamoto Musashi's "Book of Five Rings" is well known as a book of strategy. However, Musashi himself was a martial artist--the greatest warrior Japan has ever known--and the "Five Rings" was his definitive treatise on mortal combat.
This classic work interprets Musashi's "Five Rings" specifically for the martial artists--as it was originally intended. It explains the truths necessary for a full understanding of Musashi's message in depth. The result is an enthralling treatise on martial strategy that combines a warrior's instincts with the philosophies of Buddhism, Shintoism, Confucianism, and Taoism. Like the original, this new interpretation is divided into five sections. The Book of Earth lays the groundwork for the study; Water explains the warrior's attitudes through an understanding of strategy; Fire teaches fighting based on the Earth and Water principles; Wind describes the differences in Musashi's own style and the styles of other schools; and the Book of No-thing describes the "way" of nature as being understood through "unthinking" conceptions.
Famed martial artist Stephen Kaufman has translated this classic without the usual commercial bias, driving straight to the heart of Musashi's incisive martial arts stratagems. The result is an enthralling combination of powerful technical wisdom and the philosophical elucidation offered to martial artists.
Price = 13.95 USD