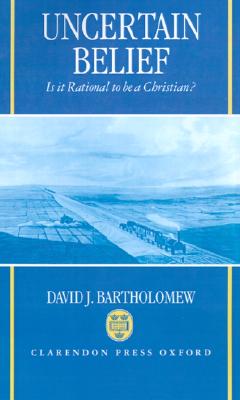 Stock Image
Author: David J. Bartholomew
Title: Uncertain Belief: Is It Rational to Be a Christian?
Binding: Hardcover
Book Condition: New
Jacket Condition: As New
Publisher: Oxford University Press July 1996
ISBN Number: 0198263783 / 9780198263784
Seller ID: 116719
Very slight imperfections to jacket.
An Eighth Day View:
Do miracles happen? Is the Bible true? What about the paranormal? Does God exist? The underpinning of belief have crumbled in a world where science sets the standard of what is true; people continue to ask these questions but there are no agreed upon answers. At the rational level, uncertainty is inevitable. Probability theory provides the tools for measuring and combining uncertainties and, thus, the key to progress. Assessing the state of the argument from a probabilistic perspective is long overdue. In Uncertain Beliefs, David J. Bartholomew examines and refutes some of the more extravagant claims, evaluates the weight of some of the quantitative evidence, and provides an answer to the fundamental question: is it rational to be a Christian?
Price = 49.00 USD