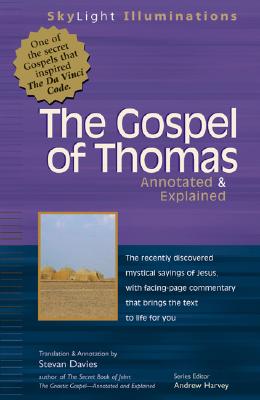 Stock Image
Author: Stevan Davies, ed.
Title: The Gospel of Thomas: Annotated & Explained (Skylight Illuminations,)
Binding: Trade
Book Condition: New
Publisher: Skylight Paths Publishing October 2002
ISBN Number: 1893361454 / 9781893361454
Seller ID: 118265
The Gospel of Thomas sheds new light on the origins of Christianity and portrays Jesus as a wisdom-loving sage. This collection of aphoristic sayings portrays the kingdom of God as a present fact about the world, rather than a future promise or future threat.
Through facing-page commentary this edition focuses on the meaning of the sayings as those teachings were preserved by an ancient source outside of the canonical New Testament, and brings to life the challenging and intriguing figure of Jesus in a new light. Now readers can approach this important spiritual text with no previous background knowledge in Christian history or thought.
Price = 16.95 USD