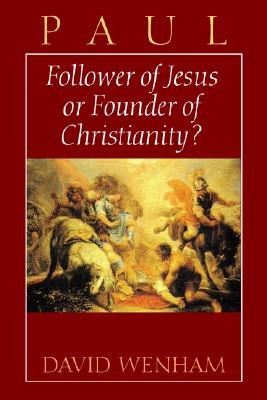 Stock Image
Author: DAVID WENHAM
Title: Paul: Follower of Jesus or Founder of Christianity?
Binding: Paper Back
Book Condition: Used - Like New
Publisher: Wm. B. Eerdmans Publishing Company March 1995
ISBN Number: 0802801242 / 9780802801241
Seller ID: 118808
Wenham argues persuasively for the the essential unity of St. Paul's gospel and that of Jesus and for Pauline faithfulness to the Jesus tradition. Very minor surface wear to covers, text pristine.
An Eighth Day View:
This book provides a broad, popular look at the relationship between Paul and Jesus. Considering the recurrent question of how much Paul knew and was dependent on the teachings of Jesus, Wenham studies the Gospels and Paul's letters, systematically compares the teachings of Jesus and Paul, and reveals the intriguing connections and differences between the two. His conclusions make this volume a ground-breaking work with exciting implications for the study of Jesus and the Gospels of Paul and early Christianity.
Price = 19.50 USD