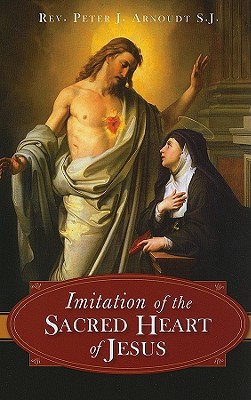 Stock Image
Author: Rev. Peter J. Arnoudt S.J.
Title: The Imitation of the Sacred Heart of Jesus
Binding: Paper Back
Book Condition: New
Publisher: St. Benedict Press & TAN Books January 2009
ISBN Number: 0895550121 / 9780895550125
Seller ID: 119351
This incredible though little-known classic of Catholic spirituality presents before the reader the entire school of true Christian holiness and the means and exercises necessary to attain sanctity. As no one shall enter Heaven who is not perfect, then if we wish to attain to that perfection which will gain us entrance to eternal happiness with The Blessed Trinity, with Jesus, with Our Lady, St. Joseph and all the Saints and Angels, we need to start in earnest and with a sure method to correct every aspect of our lives. The Imitation of the Sacred Heart of Jesus by Fr. Peter Arnoudt, S.J. is just such a "sure method" that the soul needs as a guide to perfection. For it begins at the beginning and covers every means at our disposal as Catholics, which we have and which we need to perfect ourselves plus it covers every pitfall that we face in the daunting task of attaining holiness.
Price = 16.95 USD