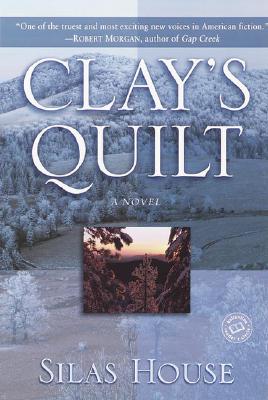 Stock Image
Author: Silas House
Title: Clay's Quilt (Ballantine Reader's Circle)
Binding: Paper Back
Book Condition: New
Publisher: Ballantine Books February 2002
ISBN Number: 0345450698 / 9780345450692
Seller ID: 119624
"A YOUNG WRITER OF IMMENSE GIFTS . . . One of the best books I have ever read about contemporary life in the mountains of southern Appalachia. . . . I could see and feel Free Creek, and the mountain above it."
-LEE SMITH
After his mother is killed, four-year-old Clay Sizemore finds himself alone in a small Appalachian mining town. At first, unsure of Free Creek, he slowly learns to lean on its residents as family. There's Aunt Easter, who is always filled with a sense of foreboding, bound to her faith above all; quiltmaking Uncle Paul; untamable Evangeline; and Alma, the fiddler whose song wends it way into Clay's heart. Together, they help Clay fashion a quilt of a life from what treasured pieces surround him. . . .
"A long love poem to the hills of Kentucky. It flows with Appalachian music, religion, and that certain knowledge that your people will always hold you close. . . . Like the finely stitched quilts that Clay's Uncle Paul labors over, the author sews a flawless seam of folks who love their home and each other."
"-Southern Living
"
"Unpretentious and clear-eyed . . . A tale whose joys are as legitimate as its sorrows."
-"The Roanoke Times"
Price = 15.00 USD