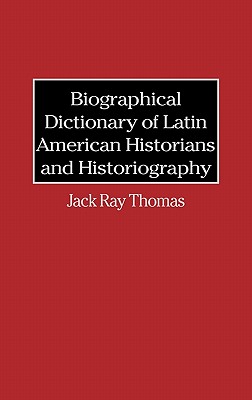 Stock Image
Author: Jack R. Thomas
Title: Biographical Dictionary of Latin American Historians and Historiography.
Binding: Hardcover
Book Condition: New
Jacket Condition: No Jacket
Publisher: Greenwood May 1984
ISBN Number: 0313230048 / 9780313230042
Seller ID: 120495
Pristine copy.
An Eighth Day View:
Jack Ray Thomas combines an extensive review of Latin American historiography with biographical sketches of historians who were Latin Americans to form a resource tool unique in its format, content, and uses. Thomas begins with an overview of Latin American historiography from the colonial period to the present. Following this extended review, Thomas provides bio-bibliographical sketches of Latin American historical writers, both amateur and professional. These sketches examine the individual's contribution and career and provide a bibliographical summary of primary and secondary materials. Four appendixes list and cross-reference historians according to birthplace, year of birth, career, and subjects researched.
Price = 37.50 USD