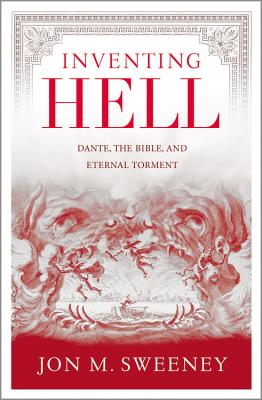 Stock Image
Author: Jon M. Sweeney
Title: Inventing Hell: Dante, the Bible and Eternal Torment
Binding: Paper Back
Book Condition: New
Publisher: Jericho Books June 2014
ISBN Number: 1455582247 / 9781455582242
Seller ID: 121738

Hell: The word conjures up terrifying images of lakes of fire and demons waving pitchforks, of darkness and eternal separation from God. The Bible seems clear on the nature of hell (and who goes there) - but what if we've all been mistaken?
At the intersection of Biblical truth and popular imagination, Jon Sweeney guides us through one of the greatest mysteries of our time, one that will challenge everything we think we know about hell, heaven, and God's design for our lives here on earth.
With gripping narrative and rock solid scholarship, Sweeney charts the "evolution" of hell through history and literature, taking us through the Old Testament "Sheol" (the dusty "underworld" where all souls traveled) to the dark reaches of Virgil's Aeneid, from Ovid's bizarre "Metamorphoses" to the greatest influencer of our modern "version" of hell: Dante's dark epic "Inferno."
He demonstrates that our understanding of hell is based more on Dante's imagination than on Biblical truth - but in the process, he reconstructs what the Bible really says about heaven and hell, giving us a clearer, more hopeful understanding of the afterlife than ever before.

Price = 16.00 USD