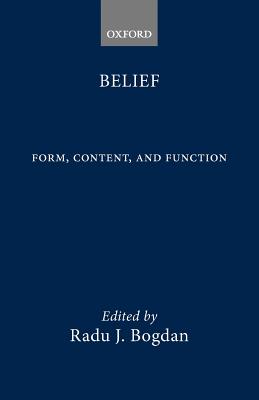 Stock Image
Author: Bogdan, Radu J.
Title: Belief: Form, Content, and Function
Binding: Paper Back
Book Condition: Used - Very Good
Publisher: Oxford University Press October 1986
ISBN Number: 0198247451 / 9780198247456
Seller ID: 122612
Light external wear, found a few pages with light pencil marginal marks on them, but the rest of the text is clean and unmarked.
An Eighth Day View:
Some of the topics presented in this volume of original essays on contemporary approaches to belief include the problem of misrepresentation and false belief, conscious versus unconscious belief, explicit versus tacit belief, and the durable versus ephemeral question of the nature of belief. The contributors, Fred Dretske, Keith Lehrer, William Lycan, Stephen Schiffer, Stephen P. Stich, and the editor, Radu Bogdan, focus on the mental realization of belief, its cognitive and behavioral aspects, and the semantic aspects of its content. This interdisciplinary study takes advantage of many new theories in what has become an important area of research.
Price = 12.00 USD