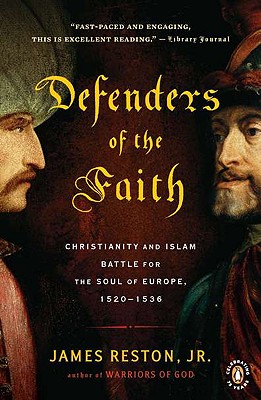 Stock Image
Author: James Reston Jr.
Title: Defenders of the Faith: Christianity and Islam Battle for the Soul of Europe, 1520-1536
Binding: Paper Back
Book Condition: New
Publisher: Penguin Books July 2010
ISBN Number: 0143117599 / 9780143117599
Seller ID: 122620
A bestselling historian recounts the epic clash that ended the Renaissance and pushed Islam to the gates of Vienna
In "Warriors of God" and "Dogs of God," James Reston, Jr., brought two epochal events in the struggle between Islam and Christendom to readers eager to understand the roots of the present-day conflict. With his unwavering eye for detail, Reston now weaves a captivating narrative that examines a pivotal period in that centuries- long war, which found Europe at its most vulnerable and Islam on the attack. This saga of colliding worlds is propelled by two astonishing young sovereigns-the Holy Roman Emperor Charles V and the Turkish sultan Suleyman the Magnificent-and is supported by a wide range of larger-than-life characters, who lend this meticulously researched history a novel's worth of suspense and brio.

Price = 18.00 USD