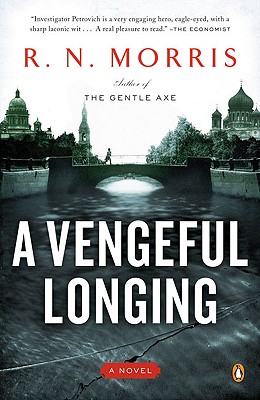 Stock Image
Author: R. N. Morris
Title: A Vengeful Longing: A Novel
Binding: Paper Back
Book Condition: Used - Like New
Publisher: Penguin Books May 2009
ISBN Number: 0143115499 / 9780143115496
Seller ID: 123230
Near fine condition. Slight cigarette smoke odor.
An Eighth Day View:
The acclaimed author of "The Gentle Axe" returns with another atmospheric thriller starring investigator Porfiry Petrovich
Hailed with glowing reviews, R. N. Morris's "The Gentle Axe" borrowed Porfiry Petrovich of Dostoyevsky's "Crime and Punishment" to create a wholly new, hauntingly authentic novel of suspense. "A Vengeful Longing," Petrovich's next outing, is even more engrossing. As the laconic investigator follows a trail that begins innocently with a box of chocolates, he is drawn deep into St. Petersburg's squalid heart. Aided by Morris's effortless prose, readers are immersed in the stifling world of nineteenth-century tsarist Russia and treated to an unforgettable rendering of a brutal time and place that will ensnare every fan of sophisticated historical fiction.

Price = 6.00 USD