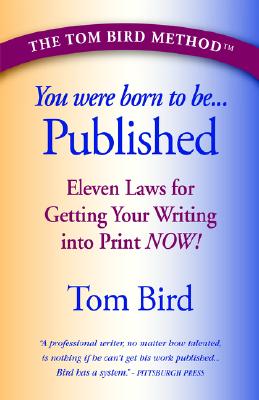 Stock Image
Author: Tom Bird
Title: You Were Born to Be Published: Eleven Laws for Getting Your Writing into print now!
Binding: Hardcover
Book Condition: Used - Very Good
Jacket Condition: Very Good
Publisher: Sojourn, Inc. August 2006
ISBN Number: 0970725868 / 9780970725868
Seller ID: 125345
Little wear to book or jacket, text pristine. A few notes written on black page opposite contents page.
An Eighth Day View:
Do you have a story or a message that just keeps dogging you and just won't let you go? Every time that your gaze falls upon a bestseller list, do you wonder why your name is not on it? Are friends, family members, and/or colleagues continually commenting on how much they love to read your letters? Would publication of your work land you the professional praise or tenure that you seek? If you answered "Yes" to any of the above, "You were born to be published," says author Tom Bird, founder of The Tom Bird Method T, which offers, no matter what you write, a proven system for getting your writing published. Some of the central themes to be covered in this book include: . Seeing your book in print in as little as twenty days . Learning the secrets behind getting published that other authors don't want you to know . Getting paid for your book before it is even written . Receiving offers to get your book published or represented by a top literary agent in as little as a few hours . Discovering everything you need to know about protecting your work from being stolen. Tom Bird employed all of the orthodox methods for getting published and met with nothing but frustration and failure. So he finally decided to develop his own strategy for not only writing a book quickly, easily, and enjoyably, but getting whatever it is he wrote published, The Tom Bird Method T. Six weeks after doing so, at the age of twenty-six, Tom sold his first book to, at that time, the third largest publisher in the world, for an amount equivalent to three times his yearly salary as The Assistant Director of Publicity with the Pittsburgh Pirates. Since then, Tom, who has gone onto publish fifteen other books and whose workhas appeared in dozens of magazines, has shared his Eleven Laws through over 3,000 appearances at more than 100 top college and university campuses, and has helped thousands of writers in securing a publishing deal. He details in this book not only his own successes, but his methods for leading so many others to their literary dreams. As a result, you will find everything you need to know to publish whatever it is that you write. If you ever wanted to publish, for whatever reason, and/or felt that you were born to be published, this book is for you. Tom resides in Sedona, Arizona, with Tammy Kelly, their daughter Skyla, and their two dogs, five cats, and two birds. "I can't thank you enough for helping me fulfill my heart's deepest desire..."-Debra Blais, Author of Letting Your Heart Sing. "Thank you for showing me how to get published...over 200,000 books sold to date..."- Jan Larkey, Author of Flatter Your Figure, Simon & Schuster
Price = 8.50 USD