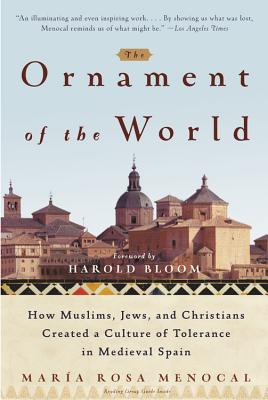 Stock Image
Author: MARIA ROSA MENOCAL
Title: Ornament of the World : How Muslims, Jews, and Christians Created a Culture of Tolerance in Medieval Spain
Binding: Paper Back
Book Condition: New
Publisher: Little Brown & Co April 2003
ISBN Number: 0316168718 / 9780316168717
Seller ID: 75877
This enthralling history, widely hailed as a revelation of a "lost" golden age, brings to vivid life the rich and thriving culture of "al-Andalus, " the kingdom in medieval Spain where, for more than seven centuries, Muslims, Jews, and Christians lived together in an atmosphere of tolerance, and literature, science, and the arts flourished.
- A Washington Post bestseller.
- A work of history that resonates powerfully in our own time--a reminder of the possibility for peaceful coexistence among Muslims, Jews, and Christians.
- A book that will fascinate those readers who propelled Karen Armstrong's A History of God, Thomas Cahill's The Gifts of the Jews, Robert Lacey's The Year 1000, et al., onto paperback bestseller lists.
- Reading groups will find much to discuss in THE ORNAMENT OF THE WORLD.
Price = 16.00 USD