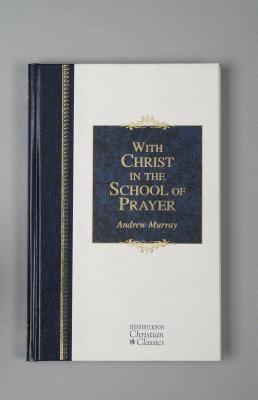 Stock Image
Author: ANDREW MURRAY
Title: With Christ in the School of Prayer (Hendrickson Christian Classics)
Binding: Hardcover
Book Condition: New
Publisher: Hendrickson Publishers May 2007
ISBN Number: 1598561707 / 9781598561708
Seller ID: 87555
This is one of the most beloved books on prayer, written by a man whose entire life was devoted to prayer.
With Christ in the School of Prayer presents a thirty-one day tutorial: each chapter presents a new aspect of prayer, in a concise way that is at the same time rich and joyful, coming from the author's vital relationship with God. A favorite book for generation after generation, it is as fresh today as when it was first published in the 1890's. Great for both novice and veteran, this book is a must-have for every personal and church library.
Hendrickson presents a lovely edition, re-typseset and redesigned, making it a perfect gift for anyone who wants to replace an old paperback or for those who have never discovered this rich volume.
Hendrickson Christian Classics
Every Christian library needs the classics--the timeless books that have spoken powerfully to generations of believers. Hendrickson Christian Classics allows readers to build an essential classics library in affordable modern editions. Each volume is freshly typeset for reading comfort, while thoughtful new introductions place each in historical and spiritual context. Attractive, classically bound covers look great together on the shelf. Best of all, value pricing makes this series easy to own. Planned to span the spectrum of Christian wisdom through the ages, Hendrickson Christian Classics set a new standard for quality and value.

Price = 12.95 USD