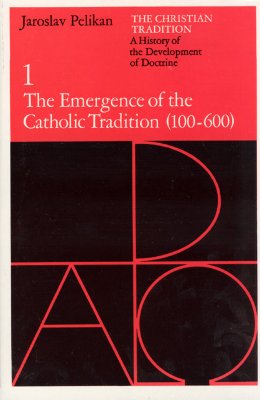 Stock Image
Author: JAROSLAV PELIKAN
Title: The Christian Tradition: A History of the Development of Doctrine, Volume 1: The Emergence of the Catholic Tradition (100-600)
Binding: Paper Back
Book Condition: New
Edition: 2
Publisher: University Of Chicago Press August 1975
ISBN Number: 0226653714 / 9780226653716
Seller ID: 91338
Extraordinarily learned yet quite readable, this magisterial five-volume set is really an authoritative encyclopedia of historical theology. There is nothing else like it in English. Every phase in the development of Christian doctrine, both East and West, is here deftly explored. Students of theology will return to this exposition of the history of Christian ideas again and again. Extensively documented by primary source texts. Volume 1, 94 pp.
An Eighth Day View:
In this five-volume opus--now available in its entirety in paperback--Pelikan traces the development of Christian doctrine from the first century to the twentieth.
"Pelikan's "The Christian Tradition" is] a series for which they must have coined words like 'magisterial'."--Martin Marty, "Commonweal"
Price = 25.00 USD