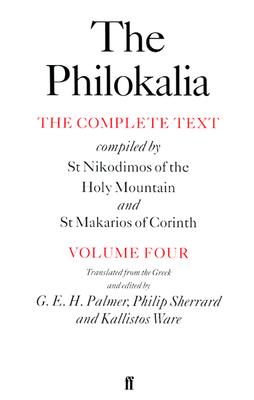 Stock Image
Author: KALLISTOS WARE, G.E.H. PALMER, PHILIP SHERRARD
Title: The Philokalia, Volume 4: The Complete Text; Compiled by St. Nikodimos of the Holy Mountain & St. Markarios of Corinth (Philokalia Vol. 4)
Binding: Paper Back
Book Condition: New
Publisher: Faber December 1998
ISBN Number: 057119382X / 9780571193820
Seller ID: 91911
The Philokalia is a four-volume collection of writings from early Church fathers, ascetics and theologians. This fourth and final volume begins with the writings of St. Symeon 'the New Theologian' (this title placing him in the select company of St. John the Evangelist and St. Gregory Nazianzen), specifically his 'One Hundred Fifty Three Practical and Theological Texts.' Next come three treatises from St. Symeon's disciple and biographer, Nikitas Stithatos. This volume culminates with ''the two Gregories'' of the fourteenth century: St. Gregory of Sinai and St. Gregory Palamas, who together (though ''in the flesh'' independently) articulated and defended the validity of the experience of those who through unceasing prayer and stillness (hesychia) saw the uncreated light of the Godhead. St. Gregory Palamas' important 'One Hundred Fifty Chapters and Declaration of the Holy Mountain in Defense of Those who Devoutly Practice a Life of Stillness' are presented here. 457 pp.
An Eighth Day View:
"The Philokalia "is a collection of texts written between the fourth and the fifteenth centuries by spiritual masters of the Orthodox Christian tradition. First published in Greek in 1782, then translated into Slavonic and later into Russian, "The Philokalia" has exercised an influence in the recent history of the Orthodox Church far greater than that of any book apart from the Bible. It is concerned with themes of universal importance: how man may develop his inner powers and awake from illusion; how he may overcome fragmentation and achieve spiritual wholeness; how he may attain the life of contemplative stillness and union with God.
Compiled by Bishop Kallistos Ware
The fourth volume of "The Philokalia"
Volumes I through III are also available.

Price = 21.00 USD