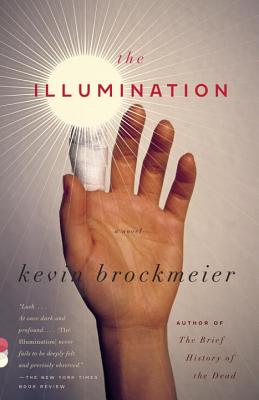 Stock Image
Author: Kevin Brockmeier
Title: The Illumination (Vintage Contemporaries)
Binding: Paper Back
Book Condition: New
Publisher: Vintage February 2012
ISBN Number: 0307387771 / 9780307387776
Seller ID: 94839
Named a Best Book of the Year by NPR, " The Seattle Times, The Kansas City Star, " and "Philadelphia City Paper" "
What if our pain was the most beautiful thing about us?"
At 8:17 on a Friday night, the Illumination begins. Every wound begins to shine, every bruise to glow and shimmer. And in the aftermath of a fatal car accident, a journal of love notes, written by a husband to his wife, passes into the keeping of Carol Ann Page, and from there through the hands of five other people--a photojournalist, a schoolchild, a missionary, a writer, and a street vendor. As their stories unfold, we come to understand how intricately and brilliantly they are connected, in all their human injury and experience. With the artistry and imagination that have become his trademark, Kevin Brockmeier reveals a world that only he could imagine, casting his gaze on the wounds we bear and the light that radiates from us all.
Price = 15.00 USD