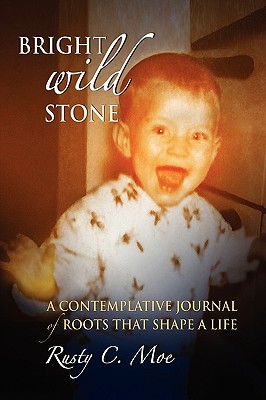 Stock Image
Author: Moe, Rusty C.
Title: Bright Wild Stone: A Contemplative Journal of Roots That Shape a Life
Binding: Paper Back
Book Condition: New
Publisher: Fourth Lloyd Productions March 2010
ISBN Number: 0971780668 / 9780971780668
Seller ID: 99046
..".a lyric prose poem of pilgrimage that merrily turns Saint Augustine and Thomas Merton on their heads. In sequence or at random, I can visit any section and find poetry, spirituality and physicality together, unfenced. Inspired in its language, deeply meditative, fearless and mischievous." -Dan Carpenter, Editorial columnist with The Indianapolis Star and author.. In Bright Wild Stone, poet Rusty Moe uses his sixtieth year to write intimately about the events, stories and influences that have shaped his life, including: family trials and joys, spiritual experiences, death and loss, the state of spirit and body after death, the paranormal, partnership and commitment, love, creative writing, contemplation, silence, a reverence for nature, a valued awareness of the ordinary daily tasks performed. ..". Rusty's] intimacy and universality are good news to us all-Bright Wild Stone is a praise-song to truth, a spirit-journey of exuberance, wonder and grace.-Libby Falk Jones, Professor English, Berea College, and author.
Price = 10.99 USD