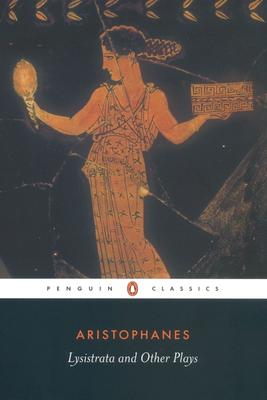 Stock Image
Author: Aristophanes
Title: Lysistrata and Other Plays (Penguin Classics)
Binding: Paper Back
Book Condition: New
Publisher: Addison Wesley April 2003
ISBN Number: 0140448144 / 9780140448146
Seller ID: 117980
Writing at the time of political and social crisis in Athens, Aristophanes was an eloquent yet bawdy challenger to the demagogue and the sophist. The Achanians is a plea for peace set against the background of the long war with Sparta. In Lysistrata a band of women tap into the awesome power of sex in order to end a war. The darker comedy of The Clouds satirizes Athenian philosophers, Socrates in particular, and reflects the uncertainties of a generation in which all traditional religious and ethical beliefs were being challenged.

@PussyWhip What's something we can leverage against men? What's the one thing we're good for again? It's on the tip of my tongue.
From "Twitterature: The World's Greatest Books in Twenty Tweets or Less"
Price = 10.00 USD