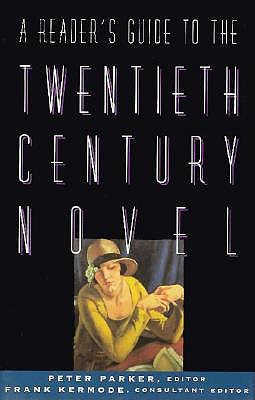 Stock Image
Author: Parker, Peter
Title: A Reader's Guide to the Twentieth-Century Novel
Binding: Hardcover
Book Condition: Used - Like New
Jacket Condition: As New
Publisher: Oxford University Press, USA May 1995
ISBN Number: 0195211537 / 9780195211535
Seller ID: 142996
Book in New condition, jacket shows very minor edgewear.
An Eighth Day View:
Can you remember what happens at the end of 1984? Or what triggered Quentin Compson's suicide in The Sound and the Fury? Perhaps you need to know who won the National Book Award in 1960, how many times the Booker Prize has been awarded to non-British writers, or what novels people were reading the year the Titanic sank. The answers to all these questions, and many more, can now be found in A Reader's Guide to the Twentieth-Century Novel.
Wide-ranging and authoritative, A Reader's Guide to the Twentieth-Century Novel is a unique and invaluable guide to modern fiction written in English. Arranged chronologically from Joseph Conrad's Lord Jim to E. Annie Proulx's The Shipping News, it contains detailed accounts of some 750 novels from the United States, Britain, Ireland, Canada, Africa, India, Australia, New Zealand, and the Caribbean. All of the century's major novelists are represented, alongside less-celebrated writers whose work has been unjustly neglected; such beloved children's authors as A.A. Milne, Frances Hodgson Burnett, and Kenneth Grahame, and such popular authors as Agatha Christie, Ian Fleming, Daphne Du Maurier, and others whose work has left a definite stamp on readers' imaginations.
Each lively entry supplies a summary of the plot, places the novel in a biographical and historical context, and provides a provocative critical assessment. Written by a team of thirty-eight contributors made up of critics, biographers, novelists, historians, academics, and literary journalists, all entries are fully cross-referenced and supplemented at the end of the book by brief biographical notes on all authors and by helpful alphabetical indexes of novels and authors. Interwoven with the entries are also 150 short extracts illustrating the voice and style of many featured novels, from Rudyard Kipling's Kim to Roddy Doyle's Paddy Clarke Ha Ha Ha. The chronological arrangement of the Guide gives readers fascinating insight into the sorts of books people were reading at any given period, and each year is prefaced by a selection of contemporary events from the worlds of the arts, science, and politics, revealing the background against which novels were written and published. This arrangement also allows readers to trace the literary history of twentieth-century fiction and to follow the development of individual authors.
A celebration of modern fiction and an indispensable aide-memoire, A Reader's Guide to the Twentieth-Century Novel is a book to be read for pleasure as well as consulted for reference.
Price = 20.00 USD