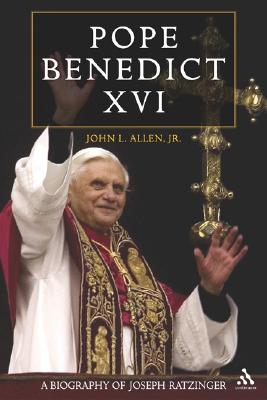 Stock Image
Author: JOHN L. ALLEN, JOHN L. ALLEN JR.
Title: Pope Benedict XVI: A Biography of Joseph Ratzinger
Binding: Paper Back
Book Condition: Used - Acceptable
Publisher: Continuum International Publishing Group 2005-05-16
ISBN Number: 0826417868 / 9780826417862
Seller ID: 158361
Moderate to heavy cover wear, firm binding, many pages show soiling or staining. Reading copy only.
An Eighth Day View:
This book is the only existing biography of Pope Benedict XVI, born Joseph Aloysius Ratzinger on April 16, 1927, in southern Bavaria. Comprehensive in scope and intimate in content, it provides a vivid blow-by-blow of the controversies that have wracked the Catholic Church during the past twenty years: Liberation theology, birth control, women's ordination, inclusive language, "radical feminism," homosexuality, religious pluralism, human rights in the church, and the roles of bishops and theologians. One man has stood at the dead center of all these controversial issues: Joseph Ratzinger. A teenage American POW as the Third Reich crumbled and a progressive wunderkind at the Second Vatican Council, Ratzinger, for twenty years, has been head of the Congregation for the Doctrine of the Faith (until 1908 known as the Sacred Congregation of the Roman and Universal Inquisition, or Holy Office). The book goes a long way toward explaining the central enigma surrounding Ratzinger: How did this erstwhile liberal end up as the chief architect of the third great wave of repression in Catholic theology in the twentieth century? Based on extensive interviews with Ratzinger's students and colleagues, as well as research in archives in both Bavaria and the United States, Allen's account shows that Ratzinger's deep suspicion of "the world," his preoccupation with human sinfulness, and his demand for rock-solid loyalty to the church run deep. They reach into his childhood "in the shadow of the Nazis" and reflect his formative theological influences: Augustine, Bonaventure, and Martin Luther rather than the world-affirming Thomas Aquinas. In his words, Ratzinger affirms that "What the church needs today as always are not adulators to extol the status quo, but men whose humility and obedience are not less than their passion for the truth; . . .men who love the church more than the ease and the unruffled course of their personal destiny."-Joseph Ratzinger (1962)>
Price = 5.75 USD