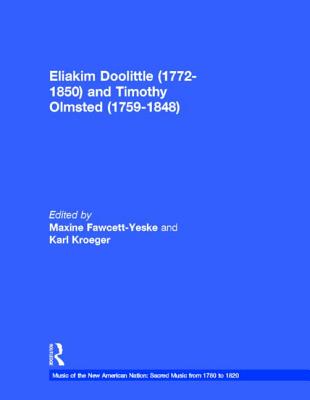 Stock Image
Author: Karl Kroeger, ed.
Title: Eliakim Doolittle (1772-1850) and Timothy Olmsted (1759-1848) : The Collected Works
Binding: Library Binding
Book Condition: Used - Very Good
Jacket Condition: No Jacket
Publisher: Routledge June 1999
ISBN Number: 0815324111 / 9780815324119
Seller ID: 158434
Clean, sturdy ex-library copy with all usual treatments. Text pristine, library bindings vary from image shown.
An Eighth Day View:
This volume brings together 79 sacred tunes by two Connecticut composers: Eliakim Doolittle, who wrote psalm and fuging tunes in an unpretentious, familiar idiom, and Timothy Olmsted, who wrote psalm tunes in a more sophisticated, florid musical style. This final edition in the Music of the New American Nation series includes a comprehensive index of tune names and first lines for all fifteen volumes.
Price = 45.00 USD