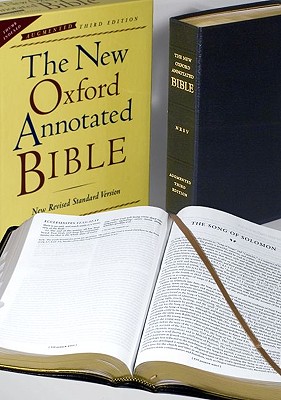 Stock Image
Author: Oxford University Press
Title: The New Oxford Annotated Bible, Augmented Third Edition, New Revised Standard Version
Binding: Leather (Genuine)
Book Condition: Used - Very Good
Edition: 3
Publisher: Oxford University Press, USA August 2007
ISBN Number: 0195288785 / 9780195288780
Seller ID: 161060
Very light cover wear, firm binding, text appears unmarked, however there is an extensive gift inscription in two pages of the front matter. Gilt edges scratched, first free endpaper edgeworn. Still present in original presentation box.
An Eighth Day View:
Countless students, professors and general readers alike have relied upon The New Oxford Annotated Bible for essential scholarship and guidance to the world of the Bible. Now the Augmented Third Edition adds to the established reputation of this premier academic resource. A wealth of new maps, charts, and diagrams further clarify information found in the scripture pages. In addition, section introductions have been expanded and the book introductions have been made more uniform in order to enhance their utility. Of course, the Augmented Third Edition retains the features prized by students, including single column annotations at the foot of the pages, in-text background essays, charts, and maps, a page number-keyed index of all the study materials in the volume, and Oxford's renowned Bible maps. This timely edition maintains and extends the excellence the Annotated's users have come to expect, bringing still more insights, information, and approaches to bear upon the understanding of the biblical text.
* Wholly revised, and greatly expanded book introductions and annotations.
* Annotations in a single column across the page bottom, paragraphed according to their boldface topical headings.
* In-text background essays on the major divisions of the biblical text.
* New essays on the history of the formation of the biblical canon for Jews and various Christian churches.
* More detailed explanations of the historical background of the text.
* More in-depth treatment of varieties of biblical criticism.
* A timeline of major events in the ancient Near East.
* A brief history of biblical interpretations, from biblical times to the present.
* A full index to all of the study materials, keyed to the page numbers on which they occur.
* 36-page section of full color New Oxford Bible Maps, approx. 40 in-text line drawing maps and diagrams.
Price = 69.50 USD