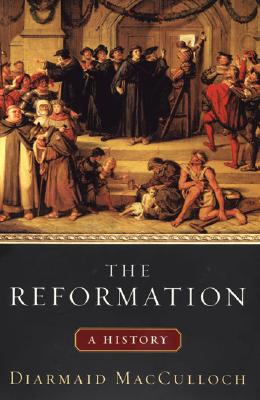 Stock Image
Author: Diarmaid MacCulloch
Title: The Reformation: A History
Binding: Hardcover
Book Condition: Used - Like New
Jacket Condition: As New
Publisher: Viking Adult May 2004
ISBN Number: 0670032964 / 9780670032969
Seller ID: 162401
Like New but for a few small spots on bottom textblock edge. All else pristine.
An Eighth Day View:
The Reformation and Counter-Reformation represented the greatest upheaval in Western society since the collapse of the Roman Empire a millennium before. The consequences of those shattering events are still felt today--from the stark divisions between (and within) Catholic and Protestant countries to the Protestant ideology that governs America, the world's only remaining superpower.
In this masterful history, Diarmaid MacCulloch conveys the drama, complexity, and continuing relevance of these events. He offers vivid portraits of the most significant individuals--Luther, Calvin, Zwingli, Loyola, Henry VIII, and a number of popes--but also conveys why their ideas were so powerful and how the Reformation affected everyday lives. The result is a landmark book that will be the standard work on the Reformation for years to come. The narrative verve of The Reformation as well as its provocative analysis of American culture's debt to the period will ensure the book's wide appeal among history readers.
Price = 25.00 USD