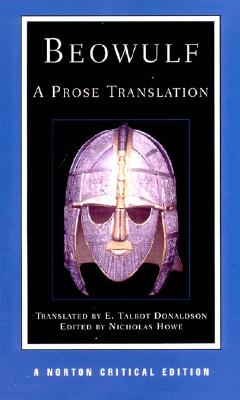 Stock Image
Author: E. Talbot Donaldson, trans.
Title: Beowulf: A Prose Translation (Second Edition) (Norton Critical Editions)
Binding: Paper Back
Book Condition: Used - Like New
Edition: 2
Publisher: W. W. Norton & Company November 1998
ISBN Number: 0393974065 / 9780393974065
Seller ID: 167468
Accurate and literally faithful, the Donaldson translation conveys the full meaning and spirit of the original. "Backgrounds and Contexts" provides readers with the historical, linguistic, and literary settings of Beowulf, including Robert C. Hughes on the origins of the Old English language, E. Talbot Donaldson's presentation of the major features of Old English poetry, new material on Beowulf's tribes and genealogies, three maps, and a facsimile illustration of the manuscript. "Criticism" collects seven new and wide-ranging interpretations of Beowulf by Fred C. Robinson, Roberta Frank, John D. Niles, Michael Lapidge, Joyce Hill, Helen Bennett, and Nicholas Howe. A Glossary of Proper Names and a Selected Bibliography are included.
Price = 15.00 USD