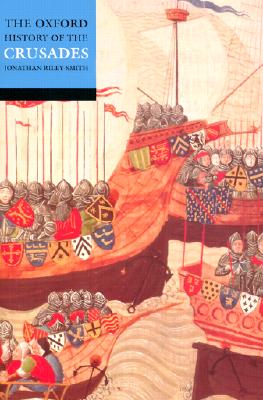 Stock Image
Author: Jonathan Riley-Smith
Title: The Oxford History of the Crusades
Binding: Paper Back
Book Condition: New
Publisher: Oxford University Press June 2002
ISBN Number: 0192803123 / 9780192803122
Seller ID: 129706
In this collection of essays, the story of the Crusades is told as never before in an engrossing and comprehensive history that ranges from the preaching of the First Crusade in 1095 to the legacy of crusading ideals and imagery that continues today. Here are the ideas of apologists, propagandists, and poets about the Crusades, as well as the perceptions and motives of the crusaders themselves and the means by which they joined the movement.
The book's coverage ranges from the elaborate social and civic systems that arose to support the Crusades to in-depth and vivid descriptions of the battles themselves. The contributors provide keen and insightful commentary on the reactions of the Muslims to a Christian holy war. Also included are studies of crusades outside the eastern Mediterranean region as well as post-medieval crusades.
By describing the combat and homefront conditions, by evaluating the clash (and coalescence) of many cultures, by tracing a legacy that continues in our conflict-ridden present, and by documenting the enduring artistic and social changes that the Crusades wrought, A History of the Crusades offers an unsurpassed panorama of one of the great movements in western history. All students of medieval culture, religion, politics, and/or history will find in these pages a highly useful, thorough, and contemporary account of that movement.
Price = 22.95 USD