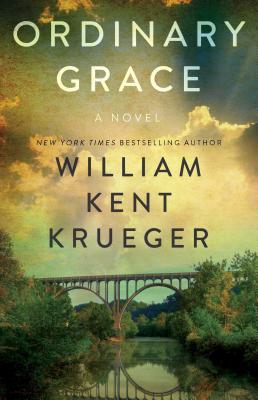 Stock Image
Author: William Kent Krueger
Title: Ordinary Grace: A Novel
Binding: Paper Back
Book Condition: New
Publisher: Atria Books March 2014
ISBN Number: 1451645856 / 9781451645859
Seller ID: 132950
From "New York Times "bestselling author William Kent Krueger comes a "pitch-perfect, wonderfully evocative" (Dennis Lehane) novel about a young man, a small town, and murder.
New Bremen, Minnesota, 1961. The Twins were playing their debut season, ice-cold root beers were selling out at the soda counter of Halderson's Drugstore, and "Hot Stuff "comic books were a mainstay on every barbershop magazine rack. It was a time of innocence and hope for a country with a new, young president. But for thirteen-year-old Frank Drum it was a grim summer in which death visited frequently and assumed many forms. Accident. Nature. Suicide. Murder.
Frank begins the season preoccupied with the concerns of any teenage boy, but when tragedy unexpectedly strikes his family, which includes his Methodist minister father, his passionate, artistic mother, Juilliard-bound older sister, and wise-beyond-his-years kid brother--he finds himself thrust into an adult world full of secrets, lies, adultery, and betrayal.
Told from Frank's perspective forty years after that fateful summer, "Ordinary Grace" is a brilliantly moving account of a boy standing at the door of adulthood, trying to understand a world that seems to be falling apart around him. Ultimately, it is a story of "redemptive grace and mercy...A novel that transforms narrator and reader alike" ("Kirkus Reviews," starred review).
Price = 16.00 USD