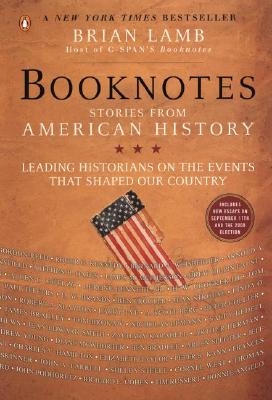 Stock Image
Author: Brian Lamb
Title: Booknotes: Stories from American History
Binding: Paper Back
Book Condition: Used - Very Good
Publisher: Penguin Books September 2002
ISBN Number: 0142002496 / 9780142002490
Seller ID: 134247
Light cover wear, firm binding, unmarked text.
An Eighth Day View:
American history is shaped by great and small events, and in recent years a generation of writers has brought these events to life. They have shared these stories with the viewers of the long-running C-SPAN author-interview program "Booknotes," and here some of the best have been collected for readers to savor. In this volume, more than eighty contemporary writers and historians examine seminal moments from American history, celebrated and uncelebrated alike.
Booknotes offers readers conversational essays edited from the interview show, providing an enticing selection of author-subject pairings. For anyone interested in America's rich history-and especially the devoted fans of C-SPAN's "Booknotes"-this is an engaging compendium of information, opinions, and new perspectives.

Price = 7.50 USD