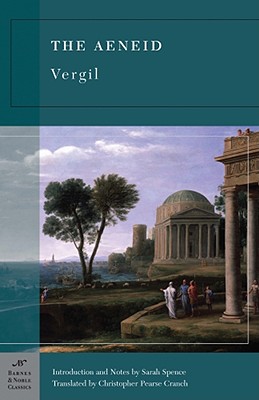 Stock Image
Author: Vergil
Title: The Aeneid (Barnes & Noble Classics)
Binding: Paper Back
Book Condition: Used - Good
Publisher: Barnes & Noble Classics March 2007
ISBN Number: 1593082371 / 9781593082376
Seller ID: 159750
Moderate cover wear includes curling to front cover corners; binding is firm, underlining present in the text.
An Eighth Day View:
"The Aeneid," by Vergil, is part of the "Barnes & Noble Classics"" "series, which offers quality editions at affordable prices to the student and the general reader, including new scholarship, thoughtful design, and pages of carefully crafted extras. Here are some of the remarkable features of "Barnes & Noble Classics"
All editions are beautifully designed and are printed to superior specifications; some include illustrations of historical interest. "Barnes & Noble Classics "pulls together a constellation of influences--biographical, historical, and literary--to enrich each reader's understanding of these enduring works. Written more than two thousand years ago and one of Western literature's indisputable masterpieces, the" Aeneid" is the Roman "answer" to Homer's epics, the" Iliad "and the" Odyssey." The latter celebrate Greek civilization through the stories of Greek victory in the Trojan War and the exploits of Odysseus. Vergil's "Aeneid" sings the triumph of Roman culture, transforming Troy's tragedy into a step on the path toward the founding of Rome by the descendants of the last Trojan hero, Aeneas. Fleeing the fallen city with a few followers, Aeneas undergoes a series of adventures, including a passionate love affair with the ravishing Dido, queen of Carthage, a visit to the underworld to meet the spirit of his father, and mortal combat with Turnus, a powerful king. Each episode tests his courage, morality, and humanity, and proves his worthiness to be the ancestor of one of the greatest empires in history. Sarah Spence is Professor of Classics at the University of Georgia. Founding editor of the journal "Literary Imagination," she has published widely on Vergil and medieval vernacular poetry. She is author of two books, "Rhetorics of Reason and Desire: Vergil, Augustine, and the Troubadors" and "Texts and the Self in the Twelfth Century," and has edited two volumes of essays on Vergil. She lives in Athens, Georgia.
Price = 4.50 USD