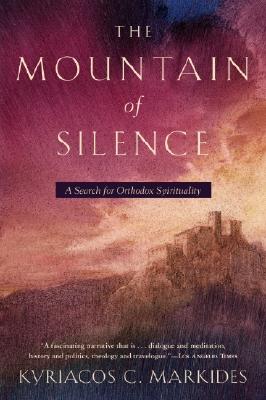 Stock Image
Author: Kyriacos C. Markides
Title: The Mountain of Silence : A Search for Orthodox Spirituality
Binding: Paper Back
Book Condition: New
Publisher: Bantam Dell Pub Group November 2002
ISBN Number: 0385500920 / 9780385500920
Seller ID: 162811
This unusual book reflects a rather extraordinary spiritual pilgrimage. The author was raised nominally Greek Orthodox, typically abandoned his faith in college and the initial years of an academic career as a university instructor in sociology, then began in turn to move away from that easy agnosticism to a series of investigations of what many might consider a New Age sort of shaman from Cyprus. This book marks another stage along the way: an encounter with a young elder, Father Maximos, from the very center of traditional Orthodox spirituality, Mt. Athos. Returning to Cyprus after many years, Markides becomes a spiritual son of Father Maximos, and in his determination to return to his Orthodox roots in an authentic way, Markides transmits his instruction from Father Maximos in the form of this book. His teaching rings true -- it is cohesive and consistent with the essentials of Orthodox spirituality.
The Mountain of Silence has all the attractions of a personal, impressionistic narrative, coupled with a synthesis of the treasures of scripture, the Desert Fathers, and the Philokalia, thoroughly traditional, yet in touch with the temper of the children of modernity. 256 pp.
An Eighth Day View:
An acclaimed expert in Christian mysticism travels to a monastery high in the Trodos Mountains of Cyprus and offers a fascinating look at the Greek Orthodox approach to spirituality that will appeal to readers of Carlos Castaneda.
In an engaging combination of dialogues, reflections, conversations, history, and travel information, Kyriacos C. Markides continues the exploration of a spiritual tradition and practice little known in the West he began in "Riding with the Lion." His earlier book took readers to the isolated peninsula of Mount Athos in northern Greece and into the group of ancient monasteries. There, in what might be called a "Christian Tibet," two thousand monks and hermits practice the spiritual arts to attain a oneness with God. In his new book, Markides follows Father Maximos, one of Mount Athos's monks, to the troubled island of Cyprus. As Father Maximos establishes churches, convents, and monasteries in this deeply divided land, Markides is awakened anew to the magnificent spirituality of the Greek Orthodox Church.
Images of the land and the people of Cyprus and details of its tragic history enrich the Mountain of Silence. Like the writings of Castaneda, the book brilliantly evokes the confluence of an inner and outer journey. The depth and richness of its spiritual message echo the thoughts and writings of Saint Francis of Assisi and other great saints of the Church as well. The result is a remarkable work-a moving, profoundly human examination of the role and the power of spirituality in a complex and confusing world.
Price = 16.00 USD